Custom Search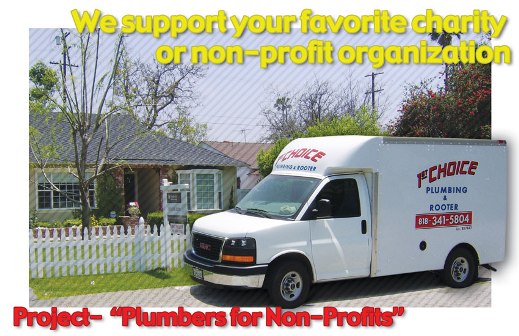 Custom Search
Please take us up on this offer!
---
At 1st Choice Plumbing, we want to do what we can to help make a difference. But, we can't do it alone! We need your help. for any customer that wants to participate, just let your technician know at time of service. We will apply a percentage of the job towards the charity or non-profit group of your choice. We have decided to offer our customers the decision of where the donations should go to do the most good. The charities or non-profit organizations can be local or national. It could be your church group or youth sports team or school. Or it could be well known charities such as the Breast Cancer Research Foundation or the Leukemia and Lymphoma society. The Point is, it's up to you to make the choice to make a difference.


Custom Search
Below are some links to our favorite charities. If you would like to add a charity to this list or if you have a need or an idea for a fundraiser in the San Fernando Valley, the Conejo Valley, Simi Valley or Santa Clarita give us a call toll free at 877-547-5862 or use the contact us form and we will add your favorite charity to this list!


Hope Again
Hope Again is a transitional housing program for the homeless on Sunset Blvd. between Western and Normandie.

Hope Again offers transitional housing to men, women and moms with kids. Weekly clothing distribution, groceries, case management, job search, school search and the opportunity to put a broken life together and become a successful contributor to society are many of the things we focus on.

Hope Again
5121 W. Sunset Blvd.
Los Angeles, CA 90027
http://www.HopeAgain.org/


Children's Hospital Los Angeles
Ours is a special place – a place where children have been cared for, and cured, for more than 100 years. From a modest beginning in a two-story house in Los Angeles, our hospital has become one of the world's top pediatric facilities, acknowledged throughout the United States and around the world for its leadership in pediatric and adolescent health.
http://www.childrenshospitalla.org/


Breast Cancer Research Foundation
Our mission is to achieve prevention and a cure for breast cancer in our lifetime by providing critical funding for innovative clinical and genetic research at leading medical centers worldwide, and increasing public awareness about good breast health. A minimum of 85 cents of every dollar goes to research and awareness programs.
http://www.bcrfcure.org

Casa Pacifica
Located on a rural 23- acre campus five miles from the pacific ocean, Casa Pacifica serves abused, neglected and severely emotionally disturbed children and adolescents from the Tri-County areas of Southern California. Casa Pacifica offers residential treatment, emergency shelter care, assesments, educational programs, family support, medical services, psychiatric/psychological treatment, and a variety of community based interventions to children and their families.
www.casapacifica.org


The Midnight Mission
The Midnight Mission is one of the oldest continuously operating human services organizations in the Los Angeles region. Centered in the Skid Row area of downtown Los Angeles, the Mission runs one of the most efficient direct service operations in the country. With only four executive managers through out its ...ninety (90) year history, the Mission has been a consistent beacon of light for those with no where else to turn.
www.midnightmission.org


Habitat for Humanity San Fernando/Santa Clarita Valleys
Habitat for Humanity of San Fernando/Santa Clarita Valleys is a non-profit organization whose goal is to eliminate poverty housing and to put shelter on the hearts and minds of people in such a powerful way that poverty housing becomes socially, politically, and religiously unacceptable. Although Habitat International assists with information, publications, and training, each community based affiliate is independently responsible for fund raising and operations.
http://www.habitat.org/cd/frame/frameset.aspx?url=www.habitatsfscv.org


Haven Hills
Haven Hills provides safety and support to victims of domestic violence, while working to break the cycle of abuse. Over the past 30years, Haven Hills has served over 600,000 women and children, helping them rebuild their lives and free themselves from the horrors of domestic violence.
https://www.havenhills.org/index.cfm/fuseaction/About.Home

The Leukemia & Lymphoma Society
The Leukemia & Lymphoma Society is the world's largest voluntary health organization dedicated to funding blood cancer research, education and patient services. The Society's mission: Cure leukemia, lymphoma, Hodgkin's disease and myeloma, and improve the quality of life of patients and their families. Since its founding in 1949, the Society has invested more than $550.8 million for research specifically targeting blood cancers
href="http://www.leukemia-lymphoma.org/hm_lls

The Independent Living Center of Southern California, Inc.
(ILCSC) is a non-profit 501(c)(3) consumer-based, non-residential agency providing a wide range of services to a growing population of people with disabilities. ILCSC is dedicated to empowering persons with disabilities to exercise independence -- professionally, personally and creatively -- while striving to educate the community on their needs. ILCSC was established in 1976, and the service office was named in honor of its founder, Darrell McDaniel. ILCSC serves a large geographic area: Glendale, Burbank, the San Fernando Valley; and Northern Los Angeles County, including the Antelope Valley. Offices and service centers are located in Van Nuys, Lancaster and Santa Clarita. Individual, corporate and foundation monetary contributions, as well as year-round, in-kind donations and volunteer services are gratefully received. ILCSC operations are highly dependent on community support and individual benefactors.
http://www.ilcsc.org/


The Rescue Mission Alliance
The Rescue Mission Alliance is a Christian Non-Profit organization ministering to the needs of the less fortunate in Southern California through emergency and long-term rehabilitation services. The Rescue Mission Alliance has served the homeless for more than 35 years. It has grown from the first location on 6th Street in Oxnard to 11 locations throughout southern California. Ten distinct programs are offered at these locations that provide a total Continuum of Care for addressing the needs of the hungry, homeless and destitute.
http://www.valleyfoodbank.org/


L.A. Family Housing
L.A. Family Housing helps homeless families and individuals rebuild their lives through an integrated system of temporary shelter, affordable housing development and comprehensive social services.
http://www.lafh.org/mission.html


If you have an idea or a need for a fundraiser for your non-profit group let us know. We are open to your ideas for fund raising activities. If you have a school team or club, or a youth team or club or a church group or any charity and you would like to do a fundraiser contact us and we will discuss your fundraising idea, and present you with our fund raiser plan.Call us toll free at 877-547-5862