Custom Search
Slab Leak Location and Repair
How can you tell if you have a slab leak or if you need electronic leak location? The most obvious sign is water coming up from the floor or from the edge of the building. other warning signs are a warm spot on the floor, high water bills or extremely low flow to a faucet or valve.
We use state of the art equipment to locate under ground leaks

It takes skill, patience, experience and the right equipment to locate underground water leaks. Underground water leaks can wash away soil from under your slab foundation causing structural damage to your home. The moisture can case mold damage and can also attract termites, It is important to deal with slab leaks sooner rather than later. The first steps we take to determine if you have a slab leak are simple non-invasive techniques such as "clocking" the water meter and performing a pressure test. Once we are certain you have a slab leak we can start performing the electronic leak location. Once we have found the leak, We can open the concrete slab, excavate to the pipe, repair the leak and patch the concrete. And of course one of the more important steps is writing the invoice correctly, so that when you submit the invoice to your homeowners insurance you can recieve the full coverage due to you.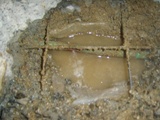 Call us today if you think you have a slab leak

877-54-Plumber
* Online Special Offer *
Price of Slab Leak Detection or Leak Location Applied to Repair
When we perform the slab leak repair we will apply the charge (up to $250.00) for slab leak detection or electronic leak location towards the repair even if the slab leak location/detection service has been performed by another company. We simply want your business and we are confident once you have seen the quality of our service, you will use us for all your future plumbing needs!


Agoura Hills electronic leak location, Agoura Hills Slab leak Repair
San Fernando Valley electronic leak location, San Fernando Valley Slab leak Repair
Simi Valley electronic leak location, Simi Valley Slab leak Repair
Thousand Oaks electronic leak location, Thousand Oaks Slab leak Repair
North Hollywood electronic leak location, North Hollywood Slab leak Repair
Calabasas electronic leak location, Calabasas Slab leak Repair
Woodland Hills electronic leak location, Woodland Hills Slab leak Repair
Sherman Oaks electronic leak location, Sherman Oaks Slab leak Repair
Chatsworth electronic leak location, Chatsworth Slab leak Repair
Studio City electronic leak location, Studio City Slab leak Repair
Northridge electronic leak location, Northridge Slab leak Repair
Van Nuys electronic leak location, Van Nuys Slab leak Repair
Encino electronic leak location, Encino Slab leak Repair
Canoga Park electronic leak location, Canoga Park Slab leak Repair
Granada Hills electronic leak location, Granada Hills Slab leak Repair
Hidden Hills electronic leak location, Hidden Hills Slab leak Repair
Mission Hills electronic leak location, Mission Hills Slab leak Repair
North Hills electronic leak location, North Hills Slab leak Repair
Porter Ranch electronic leak location, Porter Ranch Slab leak Repair
Reseda electronic leak location, Reseda Slab leak Repair
Tarzana electronic leak location, Tarzana Slab leak Repair
Santa Clarita electronic leak location, Santa Clarita Slab leak Repair
Newhall electronic leak location, Newhall Slab leak Repair
Stevenson Ranch electronic leak location, Stevenson Ranch Slab leak Repair
If you need electronic leak location or a slab leak repair in the San Fernando Valley, give us a call. San Fernando Valley Plumber service area zipcodes: 91302 Calabasas, Hidden Hills, 91304 west hills, 91307 west hills, 91303 Woodland Hills, 91311 Chatsworth, 91312 Chatsworth, 91313 Chatsworth, 91316 Encino, 91324 Northridge, 91325 Northridge, 91326 Northridge, 91327 Northridge, 91328 Northridge, 91329 Northridge, 91330 Northridge, 91356 Tarzana, 91357 Tarzana, 91364 Woodland Hills, 91365 Woodland Hills, 91367 Woodland Hills, 91371 Woodland Hills, 91372 Woodland hills, 91399 Calabasas, 91401 Sherman Oaks, 91411 Sherman Oaks, 91413 Sherman Oaks, 91423 Sherman Oaks, 91495 Sherman Oaks, Plumbing, Burbank (91501,91502,91503, 91504, 91505, 91506, 91507, 91508, 91510, 91521, 91522, 91523, 91526) North Hills 91393, Granada Hills 91394, Mission Hills 91395, Canoga Park 91396, Van Nuys (91404, 91405, 91406, 91407, 91408, 91409, 91410, 91426, 91436, 91470, 91482,91496, 91497,91499) Reseda 91335, 91337, 91343 North Hills, 91344 Granada Hills, 91346 mission hills, Plumbing, Studio City 91607, Universal City 91608, Studio City 91614, Universal City 91618, North Hollywood (91601, 91602, 91603, 91604, 91605, 91606, 91609, 91610, 91611, 91612, 91615, 91616, 91617), Santa Clarita, 91310, 91321, 91322, 91350, 91351, 91354, 91355, 91380, 91381, 91382, 91383, 91384, 91385, 91386, 91387, 91390, Valencia, 91354, 91355, 91380, 91385, Saugus, 91350, 91390, Newhall, 91321, 91322, 91381, 91382, Stevenson Ranch, 91381, Stevensons Ranch, Stevenson's Ranch, Thousand Oaks, 91319, 91320, 91358, 91359, 91360, 91361, 91362, 91363, Agoura Hills, 91301, 91376, 91377, Westlake Village, 91359, 91361, 91362, 91363, Oak Park, 91301, 91377, Simi Valley, CA:93062, 93063, 93064, 93065, 93093, 93094, 93099, Moorpark, CA:93020, 93021 Calabasas, Woodland Hills,