Custom Search
Hot Water in Seconds to any Faucet Or Shower!
Stop waiting for hot water! with the right pump you can have hot water in seconds to any Shower or Sink in your Home. With this type of pump, the average family can save 15,000 gallons of water per year. New technology ends the need for expensive return lines run to your water heater.
Saving Water = Saving Money.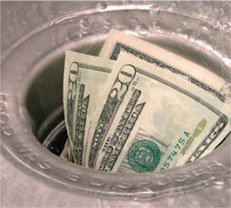 The average American household wastes 15,000 - 20,000 gallons of water annualy waiting for hot water. Water down the drain is money down the drain. The comfort pump can pay for itself within 2 yrs.
Saving Water = Saving the Enviroment
Saving 15,000 gallons of water a year has a significant impact on our enviroment. Water is our most precious natural resource. You pay for the water to be heated. Wasting less hot water uses less energy. It takes energy to deliver the water to your home. Saving water also saves energy and reduces the amount of pollution put into the Atmosphere.
How Much Does it cost?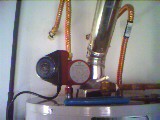 We have pumps that work on traditional tank style water heaters and pumps that work on tankless water heaters. Different houses have different needs. Call us for in an in home consultation today, and don't forget to go to our coupon page. We will send you a coupon for $50.00 off your pump.
How does it Work? - (for tank water heaters)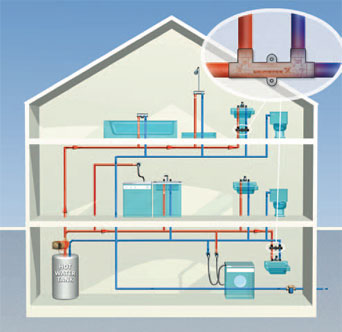 We install the comfort pump on top of your water heater. Next we install a thermostatic valve under the sink in the room where you want hot water in seconds. Next we plug in the pump. the pump creates a slightly higher pressure on the hot water line. Whenever the temperature at the thermostatic valve drops below 90 degrees fahrenheit the valve opens, sending hot water to the faucet and cold water back to the water heater. The pump has a built in timer so it can be set to be on only when you need it. Additional thermostatic valves can be added under any sinks where you want Hot water without waiting. Get yours Today! Call 877-54-plumber to schedule an appointment.
How Does it Work for Tankless Heaters?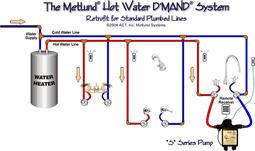 The metlund pump is the only pump that will work for tankless water heaters without affecting the warranty on the tankless water heater. it works on basically the same principals as the comfort pump but with a few key differences that make it more suitable for tankless applications. The unit is more effective at saving money and energy because it only turns on when you need hot water. It can be set up with a motion detector so that whenever you are in a room that needs hot water the pump turns on and brings just enough hot water to the room to get things started but then shuts off immediateley without wasting energy, water, and most importantly your time.
877-54-Plumber
877-547-5862
Custom Search
Want to save Money on your DWP Bill?
With a LADWP submeter, you can save money on your water bill. Without the submeter you pay more for your sewer charge on your bill. Basically, without the submeter any water you use outside your home on watering the lawn, filling your pool, washing your car etc. you end up paying for sewer charge on this water even though that water never enters the sewer. With a submeter we can seperate the water used in your home from the water used outside your home. To find out more, click here.

Service Areas
Calabasas, Woodland Hills, If you need a plumber in the San Fernando Valley, give us a call. San Fernando Valley Plumber service area zipcodes: 91302 Calabasas, Hidden Hills, 91304 west hills, 91307 west hills, 91303 Woodland Hills, 91311 Chatsworth, 91312 Chatsworth, 91313 Chatsworth, 91316 Encino, 91324 Northridge, 91325 Northridge, 91326 Northridge, 91327 Northridge, 91328 Northridge, 91329 Northridge, 91330 Northridge, 91356 Tarzana, 91357 Tarzana, 91364 Woodland Hills, 91365 Woodland Hills, 91367 Woodland Hills, 91371 Woodland Hills, 91372 Woodland hills, 91399 Calabasas, 91401 Sherman Oaks, 91411 Sherman Oaks, 91413 Sherman Oaks, 91423 Sherman Oaks, 91495 Sherman Oaks, Plumbing, Burbank (91501,91502,91503, 91504, 91505, 91506, 91507, 91508, 91510, 91521, 91522, 91523, 91526) North Hills 91393, Granada Hills 91394, Mission Hills 91395, Canoga Park 91396, Van Nuys (91404, 91405, 91406, 91407, 91408, 91409, 91410, 91426, 91436, 91470, 91482,91496, 91497,91499) Reseda 91335, 91337, 91343 North Hills, 91344 Granada Hills, 91346 mission hills, Plumbing,Studio City 91607, Universal City 91608, Studio City 91614, Universal City 91618, North Hollywood (91601, 91602, 91603, 91604, 91605, 91606, 91609, 91610, 91611, 91612, 91615, 91616, 91617), Santa Clarita, 91310, 91321, 91322, 91350, 91351, 91354, 91355, 91380, 91381, 91382, 91383, 91384, 91385, 91386, 91387, 91390, Valencia, 91354, 91355, 91380, 91385, Saugus, 91350, 91390, Newhall, 91321, 91322, 91381, 91382, Stevenson Ranch, 91381, Stevensons Ranch, Stevenson's Ranch, Thousand Oaks, 91319, 91320, 91358, 91359, 91360, 91361, 91362, 91363, Agoura Hills, 91301, 91376, 91377, Westlake Village, 91359, 91361, 91362, 91363, Oak Park, 91301, 91377, Simi Valley, CA:93062, 93063, 93064, 93065, 93093, 93094, 93099, Moorpark, CA:93020, 93021